Use your Visa Debit Card to easily manage your money.

Attention Bank of the James Debit Card Holders:
Bank of the James is pleased to announce 24/7/365 Debit Card Support!
Beginning October 3, you can call us any time at 1-833-221-8665 for all your card needs. 
Your Bank of the James VISA debit card is a convenient, safe and smart way to manage your money.   Using a debit card is easier than writing a check. With your debit card, you can shop anywhere VISA is accepted and make everyday purchases. These purchases are automatically deducted from your primary Bank of the James checking account. You can also use your debit card to obtain cash at any Bank of the James ATM or an ATM displaying the VISA, PLUS, American Express, Discover, MasterCard, Cirrus and Accell Exchange. Fees will be charged per transaction when using an ATM at another institution.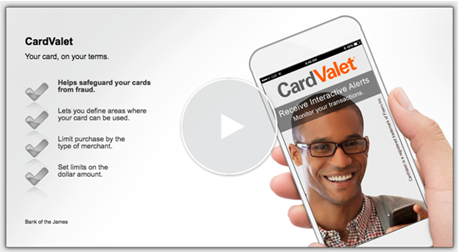 Take control of your debit card with CardValet.
CardValet is a smartphone app that allows cardholders to take safely and conveniently control their debit card. You can perform these functions, and much more, with this innovative application:
Turn card on and off. When card is "off", no purchases or withdrawals will be approved except for previously scheduled recurring payments.
Set a location boundary. Where the card can only be used, such as your hometown, or a city where you are travelling.
Restrict card activity. Your card is active only within 5-mile radius of your current location, so the card can only be used in your vicinity, and nowhere else.
Restrict card transactions for specific merchants. For example, enable grocery store purchases while turning off restaurants.
Schedule instant alerts. You will be sent a notification each time the card is used.
Check your balances and review transactions.
And so much more!